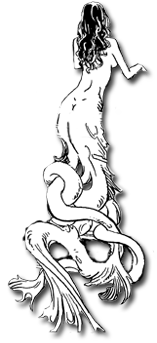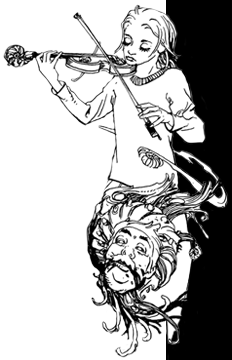 Frequently Asked Questions
What is MErViSS and Sirenia Digest?
MErViSS is a rather clunky acronym for Monthly Erotic Vignette Subscription Service. While working on Frog Toes and Tentacles, Caitlín R. Kiernan's first collection of darkly fantastic erotica (Subterranean Press, 2005), she discovered that she very much enjoyed writing these short erotic works. The MErViSS Project publishes Sirenia Digest, which is a monthly subscription-only e-zine continuing Caitlín's exploration of the fusion of erotic literature with elements of dark fantasy and science fiction, usually creating brief, dreamlike vignettes, and sometimes much longer short stories. The first issue of the digest (#0) released in November 2005. Since then, more than eighty vignettes and stories have been written for sixty-six issues.
What exactly do you mean by "darkly fantastical erotica"?
The vignettes in Sirenia Digest weave together elements of erotica, dark fantasy, science fiction, horror, and various schools of fantasy. Think H. R. Giger meets Angela Carter meets H. P. Lovecraft meets Anaïs Nin...sort of. In the end, the vignettes are unlike anything else you're likely to encounter.
What is a vignette?
Vignette (Webster's 10): 3a) a short descriptive literary sketch; 3b) a brief incident or scene. Originally, the vignettes included in Sirenia Digest averaged 1,000-3,000 words in length. But over the last five and a half years, the average length has increased, and pieces may be anywhere from 3,000 to 10,000 words in length. Also, subscribers are often treated to sneak previews of forthcoming novels and various other sorts of bonus material.
How do I subscribe?
That's easy. Just click "subscribe" on the front page, which will take you to the subscription page. Then click the subscription PayPal button. Subscribers will automatically be charged $10 each month and may cancel their subscriptions at any time, and may also re-subscribe at any time.
What does my subscription include? How does MErViSS work?
Once each month, all subscribers will receive by e-mail a PDF (Portable Document Format) including, usually, two vignettes and one illustration. You will need Adobe Reader to open and read the PDFs, a program which can be downloaded for free at Adobe.com, if your PC or Mac doesn't already have a PDF reader (and it probably does). All profits from subscriptions go directly to Caitlín, minus PayPal fees and taxes.
When during the month should I expect a new issue to arrive?
New issues are mailed to subscribers on, or around, the 5th of the month. That is, for example, the April 2011 issue was mailed out on the fifth of May 5. Very rarely will the digest may be late, due to technical problems (and other stuff). In these cases, Caitlin will keep you updated via LJ, Twitter, etc. Also, an e-mail may be sent to inform you of the delay, if it is to be more than a day or two late.
This is awesome! Will I be able to purchase back issues?
Yes. If, at any time, you wish to purchase a back issue, please send your request to crkbooks@gmail.com. Back issues are $10 each.
Why is Caitlín doing this?
Space pirate zombies from the Planet X forcing her. Also, it has proven enormously helpful during the inevitable dry spells between checks from her novels and non-Sirenia short stories. Rent must be paid.
Will the vignettes in Sirenia ever appear in print form?
A portion of the material has already been collected in print by Subterranean Press and released as follow-up volumes to the Frog Toes and Tentacles collection: Tales from the Woeful Platypus (2007) and The Ammonite Violin & Others (2010). However, these print collections contain only a fraction of the material available to subscribers, and only subscribers will have access to the sneak previews and bonus material.
What if I want to cancel my subscription?
Cancellation can be done at any time, easily, through your PayPal account.
When will my subscription begin?
Your subscription begins as soon as you subscribe. New PDFs will be emailed out on the 5th of each month (or sometime thereabouts). If you subscribe sometime after the 5th, your subscription will still begin with that most recent issue of the digest.
Can I expect occasional non-erotic content?
Yes. From time to time, Caitlín will include excerpts from new novels and short stories, as well as reprints of older material, poetry, non-fiction, etc. Recently, she included two chapters from her forthcoming novel, The Drowning Girl: A Memoir, which won't appear in print until March 2012.
Will there be artwork?
Yes. Vince Locke has been illustrating Sirenia Digest since the beginning, and will continue to do so. And, occasionally, other artists are spotlighted.
Will there be fan/slash fic?
No. These will be all-original vignettes, using characters created by Caitlín. There will be no slash or fan fic, even if Caitlín really would prefer to spend all her time writing Nebari porn and Deadwood/Farscape slash.
Will my e-mail address be shared with or sold to other services/companies?
Absolutely fucking not. All subscriber info will be strictly confidential!
I hate reading off computer screens. Will I be able to printout the PDFs?
Yes.
Is Sirenia Digest available for the Kindle and other e-readers?
Not at this time.
Should I feel naughty for reading this stuff?
Depends on your definition of naughty. Caitlín sometimes feels naughty while writing it. The content of the Sirenia Digest is expressly intended for mature readers.